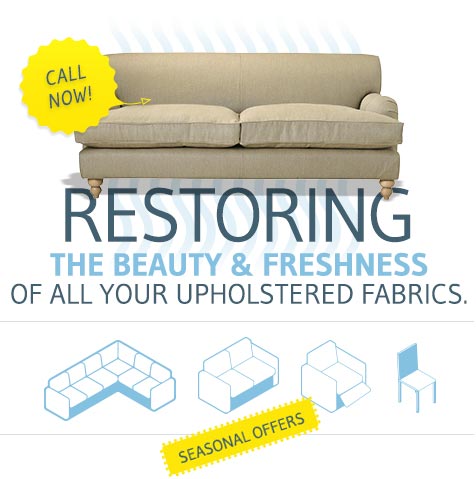 Upholstery Cleaning Service Near Fort Lauderdale
Upholstery cleaning, as you most probably know, is the cleaning of the material that upholsters your furniture. At first, it might sound and even seem like a pretty simple task, only for you to discover a while later that it's not what you thought. Upholstery is, in a majority of the cases, made of delicate fabric that requires special cleaning techniques and equipment.
Besides, most furniture won't just let you remove the material and run it through a washing machine, which could have been quite easier. Nonetheless, you might be tempted to try DIY upholstery cleaning projects but end up being sorry for your decisions. That's why it's always a great idea to hire experts for upholstery cleaning in Fort Lauderdale for the following reasons:
Durability
There's no denying that we all want our furniture to look as clean and as new as possible. However, continued use of the furniture makes the upholstery look dull no matter how often you vacuum your sofas and chairs. That's why you need professional upholstery cleaners to get rid of the dust lodged in the upholstery. That way, you can get rid of all contaminants in your upholstered fabrics and extend their life.
Fresh and clean air in the house
Expert upholstery cleaners use special equipment and skills to carefully and thoroughly clean your upholstery so that everything not only looks but smells fresh again. Do you remember the clean and fresh air that was in your house when everything was new and unused? That's what upholstery cleaning in Fort Lauderdale aims to restore.
Avoid damages
Have you not come across DIY "pros" online complaining that certain techniques or perhaps even cleaners damaged their upholstery and now they have to cough out more cash to rectify that? That's what happens when you try something you're not trained to do, while we all know that regrets can't change the situation. As such, upholstery cleaning is something you want to leave to the experts - people who have the required skills and experience.
Stay healthy
Perhaps you never knew that some pesky allergies are as a result of contaminated air, which comes from upholstery and even carpets when someone agitates them in any way. The good news is that you can reduce the occurrence of those allergies by staying in clean rooms, and there is no denying that upholstery cleaning contributes to the overall cleanliness of the room.
Fast effective results
Is there a stain on your upholstery fabric that you have been trying to remove but failed in all your attempts? Leave that to expert upholstery cleaners, and you shall be amazed at the results. Besides, professional upholstery cleaning in Fort Lauderdale not only offers effective results but fast ones as well, so that you can get to use your sofas and chairs soon.
Why Choose Us:
Expertise: With years of experience in the industry, our skilled technicians are well-versed in cleaning all types of upholstery, from sofas and armchairs to dining chairs and more. We understand the nuances of different fabrics and employ the most suitable cleaning methods.
Advanced Technology: We invest in cutting-edge cleaning equipment and environmentally friendly cleaning products to ensure the best possible results. Our technology allows for deep cleaning and quick drying times.
Health Benefits: Upholstery is a breeding ground for dust mites, allergens, and bacteria. Our cleaning process not only enhances the appearance of your furniture but also creates a healthier living environment for you and your family.
Customized Solutions: We tailor our cleaning approach to your specific needs. Whether it's removing stains, pet hair, or general dirt and grime, we have a solution for you.
Eco-Friendly Options: We offer green cleaning solutions for environmentally conscious customers. These options are safe for your family and the planet.
Our Process:
Inspection: Our experts begin by assessing the condition of your upholstery to identify any stains, wear, or specific cleaning requirements.
Pre-Treatment: We apply a specialized pre-treatment to loosen dirt and stains while being gentle on the fabric.
Deep Cleaning: Using our advanced equipment, we clean and extract dirt, allergens, and contaminants from the upholstery.
Stain Removal: Stubborn stains are treated with care to ensure their complete removal.
Drying: We use rapid drying techniques to minimize disruption and ensure your furniture is ready for use quickly.
Inspection and Finishing: After cleaning, we conduct a final inspection to ensure your upholstery looks its best. We can also apply fabric protectants for extended cleanliness.
Pricing: Our pricing is competitive and transparent. Contact us for a personalized quote based on the number of pieces, fabric type, and any additional treatments needed.
Frequently Asked Questions
What is upholstery cleaning, and why is it necessary?
Upholstery cleaning involves the removal of dirt, stains, allergens, and contaminants from furniture fabric. It's necessary to maintain a clean and healthy living environment while extending the lifespan of your furniture.
How often should I have my upholstery cleaned?
The frequency of upholstery cleaning depends on factors like usage, household members, and pets. Generally, it's recommended every 12-24 months for most households.
Can you clean all types of upholstery fabric?
Yes, our professional team is trained to clean a wide range of upholstery fabrics, including delicate and exotic materials. We adapt our methods to suit each fabric type.
What are the fabrics we clean?
Microfiber, Polyester, Cotton, Linen, Leather, Wool
Professional Upholstery Cleaners
Upholstery cleaning by UCM Upholstery Cleaning is undoubtedly the best way to keep your furniture looking new and there are more benefits that will amaze you.
Don't struggle anymore, our professionals are here for all Fort Lauderdale, FL residents to ensure that your upholstery looks clean and new - just like it was when you brought that furniture into your house. Besides offering quality furniture cleaning services, we are certified, bonded and insured, and that means that you stay stress-free throughout, knowing that you are in safe hands. Contact us today for a free on-site estimate and first-class services.